About Blue Willow
☼ Mission Statement ☼ Blue Willow Advantage ☼ History ☼ Team ☼ Membership Associations ☼
Mission Statement
Blue Willow's reputation is based on a history of satisfied clients. In order to maintain that reputation we have set high standards in the area of technical expertise, quality service and customer relations. We believe that by adopting this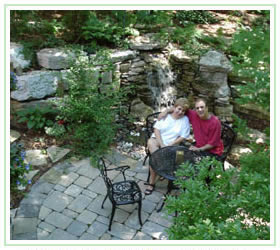 professional attitude we will be able to achieve our goal of establishing a long term business relationship with each of our clients.
Blue Willow Advantage
Blue Willow's success is based on our ability to offer a rare combination of talent, experience, reliability and resources.
Flexible - Our extensive knowledge and training, together with the resources of our Garden Centre, enable us to provide a full range of services and to handle as much or as little of your project as you want.
Innovative - Our long experience allows us to create innovative, cost-effective solutions that work.
Highly qualified - The co-owners, Roy Gucciardi and Maria Nicolussi, are highly qualified professionals backed up by a staff of experienced experts. Roy is a landscape architect (University of Toronto, 1983), member of Ontario Association of Landscape Architects, certified arborist and horticulturist. Maria is a registered horticulturist and herbalist, with a landscape design certificate from Ryerson Polytechnical University.
Established - Our garden and landscape design services are rooted in our Garden Centre, established in 1987.
Reputable - Our success is built on a strong history of satisfied clients. We are proud to provide references.
Experienced - We have been designing and creating beautiful outdoor spaces since 1983.
History
In1961, Willow Farm was established as a very simple nursery business located on 20 acres of abandoned farmland. On the property there was a small bungalow home and a 2000 square foot dirt-floor garage housing a cash desk. The garage was also used to store tools and equipment. There was a 1000 square foot polyhouse for winter storage and plant propagation. Inventory consisted of containerized evergreens and shrubs with the remainder of the stock planted on 6 acres of cleared land, predominantly sandy soil.
This was the "Garden Centre" that Roy & Maria purchased in 1987 from Eino and Mary Kuris, who operated the nursery as a hobby.The close proximity to Sutton, Keswick and Newmarket made the acquisition a potentially viable business. Looking forward to making all kinds of exciting changes, we renamed the property Blue Willow Nursery Inc., and started turning this enterprise into a real business and a complete Garden Centre.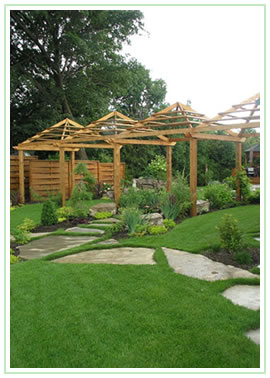 Today, Blue Willow includes a 4000 sq. ft. Victorian-style interior retail store/showroom/office.The Blue Willow Gift Shop is on the main level and the 2nd floor houses the offices, drafting studio and meeting rooms. The exterior sales and nursery area is approximately 4 acres in size.We have 6000 sq. ft. of polyhouses - for winter storage and seasonal plant production. Pathways and displays around the building are redesigned to create a pleasant atmosphere for shopping and customers' garden planning. We consider ourselves not only a sales centre, but an educational facility as well.
Our long-term plans include demonstration gardens and a landscaped park area to attract tourists and other visitors.
The Garden Centre provides the residents of Georgina and surrounding area with one stop shopping consisting of:
Landscape Design Department
Landscape Construction Services

Residential
Commercial
Industrial

Maintenance Services - Experienced gardeners
Gardening Supplies and Fertilizer - Top quality
Premium Nursery Plant stock - Fully guaranteed
Team
ROY GUCCIARDI
President & Co-owner
is a Landscape Architect (University of Toronto '83) and a member of the Ontario Association of Landscape Architects. Prior to establishing his own landscape design business, he worked for several firms in landscape design and construction. He is also a certified arborist.

MARIA NICOLUSSI
Garden Centre Manager & Co-owner
is a registered horticulturist and herbalist trained with a Retail Floriculture and Master Herbalist Diplomas from Humber College and a Ryerson Polytechnical Landscape Design Certificate. Maria spent 11 years with the City of Toronto Parks and Recreation Department and worked in various horticulture-related areas. Maria recently became a Certified Retail Horticultural Technician.

.HEATHER WITTENBERG
returns to Blue Willow for her third season as an education facilitator in our butterfly conservatory. She brings with her 20 years of experience in humanitarian services combined with a deep respect for nature and our environment. Her responsibilities also include documentation and progress reports on both our native and tropical butterflies and moths.
REBECCA FREE
Garden Centre Assistant Manager
was new to Blue Willow in 2008. She is an avid home gardener with experience in greenhouse growing. Rebecca is currently working towards obtaining her certification as a Retail Horticulture Technician. She is always happy to help our customers in the garden centre.

Caricatures by
Leanne Mohammed

Membership Associations
Blue Willow Garden and Landscape Design Centre is a member in good standing of the following associations:
| | | | | | | |
| --- | --- | --- | --- | --- | --- | --- |
| | | | | | | |
| International Society of Arboriculture | Canadian Nursery Landscape Association | Landscape Ontario | Ontario Association of Landscape Architects | Aurora Chamber of Commerce * | Georgina Chamber of Commerce | Newmarket Chamber of Commerce |
* The use of the logo is subject to the conditions of use as prescribed by the Aurora Chamber of Commerce.