Dear Roy, Ken, Paul, Serhiy, and Noah
Just wanted to send a little note to thank you all for the wonderful work you did around our garden, front and back, over the last two years.
Paul and Ken were always available and never hesitated to take care of our requests and needs. All other staff are very polite and hard-working. We were impressed with their attention to detail and their care around our home.
We feel you transformed our regular old yard into a very unique and special garden. We plan to enjoy and explore it for many years to come. We will certainly recommend 'Blue Willow' to all.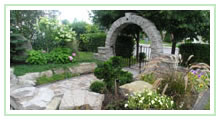 Again, thank you.
Sincerely,
Peter and Bernadette M.
Newmarket, ON