FEEDING BIRDS ALL-YEAR LONG
In addition to having plants in your garden that naturally produce food for the birds, you can provide bird feeders so a constant supply of seed and nuts is available. Furthermore, you can view different species at closer range. Invest in a good field guide to help you identify these visitors. There are many styles of bird feeders from which to choose in wood or plastic. Some are for hanging and some can be pole mounted.
If you have squirrels in your area, you will want to select a feeder whose seed opening automatically clamps shut as soon as the weight of a squirrel or chipmunk lands on the feeding tray. Or mount your feeder on top of a sturdy pole just far enough away from trees or the house that the squirrel can't jump onto it. You can grease the pole itself or attach a squirrel baffle to prevent the pests from reaching the top. Squirrels are ingenious and great high flyers so you might find it easier to feed them on the ground with peanuts still in the shell.
There are large and small feeders depending on how often you're willing to refill the seed and what kind of bird you wish to attract. Bigger birds like Blue Jays and Cardinals simply won't land on a small feeder. Tubular feeders come with small perches and large or tiny seed openings from which the seed is dispensed. Sunflower seed and wild birdseed mixtures can be used in the former type while Niger seed fills the latter tube.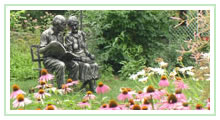 There's a third type of tubular feeder called an "Upside Down Feeder" that's for Goldfinches only. They are the only bird that will land on a perch and flip upside down to feed from the small opening directly below.
Birdseed: Sunflower seed is available in two forms-striped and black. Striped will attract all birds while black is the particular favorite of Blue Jays, Cardinals, and Chickadees.
Suet cakes are an important food source to many birds in winter especially Chickadees, Woodpeckers, and Nuthatches. You can purchase a suet cage that fits a suet cake perfectly if you don't already have one built onto your feeder.
Feed the birds all year, not just in winter, so you can enjoy the beauty of summer visitors too. And don't worry too much about birdseed falling on the ground unless it germinates. Mourning Doves and Juncos love to clean up the leftovers on the ground.